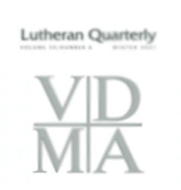 Donating LQ to Seminaries
Thanks to a generous donation from Robert and Pauline Kolb, a permanent subscription to Lutheran Quarterly has been arranged for the Mekane Yesus Seminary in Addis Ababa, Ethiopia, and the entire back run of Lutheran Quarterly, New Series delivered. Pictured below is Takele Kebede Busha, Mekane Yesus Seminary head librarian, taking delivery of the journals.
This very generous endowment is the first of what the Lutheran Quarterly Board hopes will be more endowed subscriptions to seminaries in the majority world. Prospective donors are encouraged to inquire of LQ Managing Editor Bud Thompson as to the particulars of sponsorship.