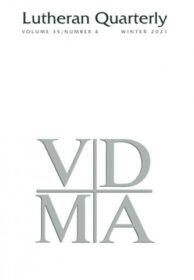 More LQ Donations to Seminaries
Thanks to a generous gift from LQ treasurer David Hardy, an endowed subscription to Lutheran Quarterly, along with the run of back issues, has been delivered to the School of Theology, Tumaini University Makumira, in Arusha, Tanzania. The Rev. Dr. Mark Rich, a former ELCA missionary who taught at the School, made the delivery. The gift was made in memory and honor of Hardy's late cousin Raymond Rowberg M.D., who was an ALC medical missionary in Tanzania.

This very generous endowment is the second instance of what the Lutheran Quarterly Board hopes will be more endowed subscriptions to seminaries in the majority world. Prospective donors are encouraged to inquire of LQ Managing Editor Bud Thompson as to the particulars of sponsorship.