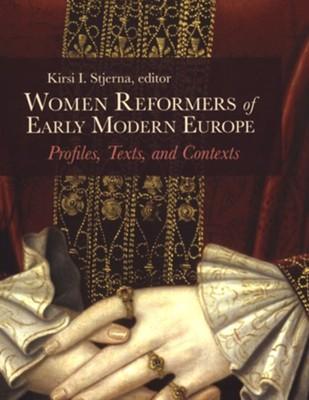 WINTER 2023 FEATURED BOOK REVIEW
Women Reformers of Early Modern Europe: Profiles, Texts, and Contexts.
Edited by Kirsi I. Stjerna. Minneapolis: Fortress Press, 2022. xxviii 395 pp.
Reviewed by Martin J. Lohrmann, Wartburg Theological Seminary Dubuque, Iowa
This wonderful and important collection shares the stories and writings of many women who worked to reform European Christianity in the early modern era. The majority of the thirty-three articles focus on a single woman or community each, describing their subjects' respective historical contexts and enduring significance. The primary source material that concludes many entries further enriches contemporary understandings of Reformation-era values and perspectives.
The book's organization is clear and easy to follow. After a general introduction by editor Kirsi Stjerna, the text begins with studies of women who were either published writers or who worked in publishing in the early Reformation, including Katharina Schütz Zell and Argula von Grumbach. ections on female leaders in different parts of Europe follow. These include political figures like Dorothea Susanna of the Palatinate, Queen Elizabeth I of England, and Marguerite of Navarre, along with local leaders like Katharina von Bora, Anne Askew, and women who influenced the Reformed and Anabaptist movements.
Read the full article HERE